Origins of Project
When Mennonite Women USA called for an audit of Mennonite institutions in 2009, an opportunity for systemic change was created. After an examination of the numbers of women leaders in Mennonite institutions, it was clear that quantitative analysis was not enough. Thus the Women in Leadership Project (WLP) was born—an initiative to name and transform sexism in Mennonite Church USA.
Download a brochure containing an overview of the Project:     English    Español
Women Doing Theology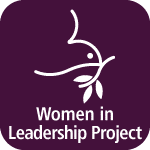 February 20 – 22, 2014 the Women in Leadership Project hosted a Women Doing Theology conference.All You Need is Love: Honoring the diversity of women's voices in theology was held in Leesburg, Va., with almost 200 women in attendance. Through worship, workshops, paper presentations, large group conversations, circle groups and a slam poetry open mic women embodied their theology.
Participants did not talk about an easy love that tries to gloss over pain, suffering, anger and injustice. They wrestled with what it means to be a Christian community that holds all of these tensions and complexities. An offering of $2,600 was received during the conference to support the ongoing work of the Women in Leadership Project. The worship services from the conference are now available as printable resources online and a book project is being discussed with MennoMedia.
Get Connected!
Contact
Jenny Castro
574.523.3051
jenniferc@mennoniteusa.org