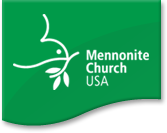 Some of the most important interchurch work happens in local settings and between congregations. Here you can learn from the experiences of other pastors and local leaders and find resources for pursuing interchurch relations in local settings.
Sermons
We welcome receiving sermons you have preached or found meaningful on interchurch relations and the call to Christian unity. If you have a sermon to share, e-mail Andre.
One Holy Equation, Focus on John 17, from Larry Rohrer, Belmont Mennonite Church, Elkhart, IN, May 24, 2009
With the Spirit's Daring: Interchurch Guide for Local Settings
With the Spirit's Daring offers an introduction for reaching out in friendship across denominational boundaries. Because of the Spirit's daring work in our time inviting Christians to join each other in a new unity of prayer, friendship, service and witness, an extraordinary opportunity has arisen to work together to fulfill Jesus' prayer for his followers "that they may be one, as we are one" (John 17:11).
Designed by a team of Mennonite Church USA pastors and leaders, this new interchurch resource includes sections on a biblical foundation, first steps, a guide, additional resources and an evaluation.
Download With the Spirit's Daring today!