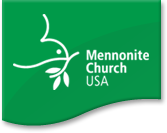 Relationships with other Anabaptist groups
Mennonite Church USA is part of the global Anabaptist family. We value our kinship with other fellowships in this family. We build relationships with each other and work together in many settings.
Mennonite Church USA is presently cultivating conversation and relationship with two denominations, the Evangelical Lutheran Church in America and the Church of God, Cleveland, a historic Pentecostal denomination.
At the Interchurch Relations biennial consultation in Akron, Pennsylvania in July 2008, we were encouraged to seek relationship with discipleship oriented communities and groups, many of which share a profound kinship with Anabaptists. For several years, Joanna Shenk visited and cultivated relationships with groups like The Simple Way, Jesus Radicals, Missio Dei, The Open Door Community, Jubilee Partners and The Beloved Community Center. As a result, Joanna edited a series of essays published in the book, Widening the Circle: Experiments in Christian Discipleship.